KSB pumps, Amacan series K, P, S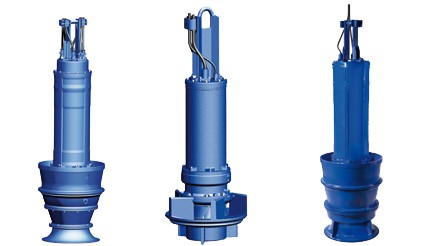 The pumps of the KSB Amacan series have a narrow elongated design, specially adapted for installation in outlet pipes-mines. The units of this series have been developed for wastewater treatment systems, but have found a wide application in aquaculture as well. KSB Amacan are submersible pumps. They are capable, despite their compact dimensions, to develop a significant power flow of pumped water. The units have high-power asynchronous three-phase motors with direct drive (no coupling). The device cooling is provided by the operating medium.
For installation in pipe-shafts, pumps are supplied in two versions: Amacan K - with a working K-wheel; Amacan P - with axial self-cleaning impeller. They have slightly different technical specifications. Accordingly, the areas of their application are somewhat different. Thus, the Amacan K submersible pumps are used to mix active sludge and wastewater in sewage treatment plants. The pump unit Amacan P is used for pumping large volumes of water in industrial plants and power plants. Otherwise, they have similar uses.
Both types of pumping stations are used in irrigation systems (drainage / irrigation), installations for mixing water in hydrotechnical sewage treatment plants. They are also used in aquaculture, water protection systems, as well as in systems against natural flooding. Pumps KSB series Amacan have a number of characteristic advantages in comparison with other types of units: high power and efficiency; good streamline (does not create flow turbulences); ease of installation (power circuit self-centering support); reliability, durability.
Such pumps are designed for continuous (timeconsuming) mode of operation. During the work they do not create the increased noise and vibrations. In addition, structurally a high level of operation safety of the units is provided. During operation, the temperature of the motor windings, working bearings, the presence of leaks into the hermetic zone are continuously monitored. In case of exceeding the permissible parameters emergency shutdown is triggered.